Gabrielle "Coco" Chanel
Coco Chanel is undoubtedly one of the most influential women of the past century. She redefined the fashion world, became a pioneer businesswoman and consequently one of the richest women in the world.

Coco Chanel was born in 1883, and opened her first boutique at the age of 30. That is when her fame as a designer took off. Flash forward twenty years and we have the brand Chanel employing 4000 people and the most famous fragrance in the world: Chanel No. 5.

Today, Chanel is one of the most profitable luxury brands with stores all around the world. Modern fashion has been marked by Coco's footprint. Her legacy as a designer include the Chanel's suit, the "little black dress" and even the typical suntan you get to look better. That was introduced by  her too, until that point suntans were a sign of hard, lower-class jobs. Nothing fashionable.


If you want to know more about Coco Chanel, you can find several movies and documentaries based on her life, work, and famous love affairs. The most recent ones are the American TV movie 'Coco Chanel' from 2008 and the French 'Coco Before Chanel' from 2009.
Fashion, culture and dating
Summary
If you are travelling abroad and thinking of meeting international singles you might want to know what to wear on a first date. This article looks at how fashion trends alter in different countries and what different cultures find more attractive sartorially.    
This article looks at some of the different fashions around the world and what outfits are culturally acceptable when you are dating.  
1. Spain 
With Spain's bright sunny culture and relaxed, happy lifestyle Spanish singles like to wear eye-catching vibrant colours and a laid-back style. Mature Spaniards dress conservatively and with style – often wearing very high-quality clothing.
Although you will see plenty of scantily-clad holiday makers along the coast, if you are going on a date you should cover up. Swim wear and short skirts are frowned upon in the small villages. Women should wear a long floaty skirt with a simple top and men should go for a bright t-shirt and good-quality shorts.  
2. Italy  
Italians are famous for their inherent fashion sense. When you are in Italy it is important to make an effort and dress up well. If you are going on a date with an Italian women take time over your appearance. Italian women are not impressed with men who wear trainers and t-shirts.  
You don't have to go all out with a suit but a simple, clear shirt and nice pair of shoes will go a long way! Similarly if you are thinking of dating an Italian man, remember that they are used to dating women who put a lot of effort into their appearance. Wear a figure-hugging dress that shows off your curves without making you look cheap.  
3. France  
The French have mastered the I-look-fantastic-without-even-trying style. The most stylish French men dress in quite a grungy way as if they just picked up the first thing they found on the floor that morning. Coupled with tousled hair it gives them a care-free sexy look.  
The women give off the same aura. They may make more effort with their wardrobe but it is their attitude which makes them attractive. French women are comfortable in their bodies and know how to wear their outfits. They wear natural-looking hair and make-up and ooze confidence.  
If you are going on a date with a French man show off your svelte figure in a pair of tight jeans and heels and charm him with your charismatic personality.  
4. Japan 
Japanese singles are very careful of the way they dress to impress. Japanese girls are generally very shy and don't like to wear anything that is too tight or revealing. If you are going on a date in Japan don't wear anything that shows the outline of your figure.  
Casual clothes are fine so long as you look tidy and presentable. Men should wear an eye-catching t-shirt with comfortable trousers and a smart jacket and women should go for either a simple tea-dress with opaque tights or a pair of jeans and a pretty, feminine top.  
4. UK  
Here in the UK there are no set rules on what to wear on a date but there are plenty of no-nos! If you are going on a date with someone for the first time – perhaps someone you have met through an online dating site such as www.eharmony.co.uk – your first impression will be very important.  
Women should look confident and sexy without wearing anything too revealing and men should looks smart and neat without appearing too formal. Women, dig out your favourite outfit or that signature little black dress and men, remember that shoes can be a deal-breaker! For more tips on fashion and dating check out eHarmony UK's Twitter Page.    
Fashion varies across the globe, but as long as you wear something you feel sexy in and you act happy and confident you should impress your partner no matter where in the world you are dating!  
Resource box
Glamour has a range of articles discussing first date fashion.
An article in The Guardian gives tips on what to wear on a first date.
Elle looks at the hottest fashions across the globe.
10 reasons why Paris is still the fashion capital of the world
Paris has been ruling the high seas of fashion for more than three centuries. During this time it has attracted the world's foremost designers and seemingly imbued its citizens with an innate sense of style. For these, and plenty of other reasons, Paris can still rightly claim its title of world fashion capital. Here's why.
Paris fashion week
The Paris Fashion Week is the finale of the big four fashion weeks – the others being Milan Fashion Week, London Fashion Week, and New York Fashion Week. Held predominantly in the Carrousel du Louvre, Paris fashion week helps dictate what the world will be wearing next season.
Best designers
The world's best designers have always operated from Paris. It is currently home to the headquarters of Rochas, Vuitton, Balenciaga, Céline, Yves Saint Laurent, Chanel, Dior, Givenchy, Chloe, Jean-Paul Gaultier, Hermès and Lanvin.
Haute couture
The concept of haute couture ('high sewing' or 'high dressmaking' or 'high fashion') was invented in Paris. Though it originally refereed to Englishman-in-Paris Charles Frederick Worth's work, the term has become a 'protected name' in France, meaning that it can only be used by companies that meet certain well-regulated standards.
People
Some of the most stylish people on the planet were born in Paris. These include Brigitte Bardot, Catherine Deneuve, Anne Parillaud, Juliette Binoche and Jeanne Moreau.
Golden triangle
Paris provides the ultimate dose in high-end fashion. In an area bordered by the Champs-Elysées, Avenue Montaigne and Avenue Marceau, visitors can find the world's top design houses – from Dior to Chanel to Yves Saint Laurent.
Bikini
The bikini was invented in Paris by the French automobile engineer Louis Réard and fashion designer Jacques Heim in 1946. The item embodies French style in its timeless simplicity.
Fashion trade unions
Paris retains a powerful fashion trade union known as the Fédération française de la couture. Created in 1973, the Federation is dedicated to protecting French fashion and consists of three entities – the trade union of high fashion, the trade union of men's fashion, and the trade union of women's fashion.
Fashion school
Paris is home to the world's foremost fashion school – the Ecole de la chambre syndicale de la couture parisienne. Immersing yourself within the fashion capital requires at least basic understanding of the language, schools such as ESL (http://www.esl.co.uk) give you the opportunity to learn French in Paris and make the most of an amazing city.
History
Parisians have the most experience of high fashion. Couturier houses were first established in the city in 1858.
Little black dress
The LBD was invented in Paris by Coco Chanel in the 1920s. The simple, relatively short and versatile garment is now considered an essential element of any woman's wardrobe.
Useful links
List of French fashion designers
Site dedicated to fashion's biggest event
Ecole de la chambre syndicale de la couture parisienne
Website of the world's foremost fashion school
First ladies of Fashion!
With all this election buzz (Congratulations Obama!) I started looking back at the most memorable, fashion- forward first ladies at The White House.  
Jacqueline Kennedy (married to John F. Kennedy) Presidency 1961-1963
Rosalynn Carter (married to Jimmy Carter) Presidency 1977- 1981
Nancy Reagan (married to Ronald Reagan) Presidency 1981- 1989 
Hillary Clinton (married to Bill Clinton) Presidency 1993- 2001
Michelle Obama (married to Barack Obama) Presidency 2009- present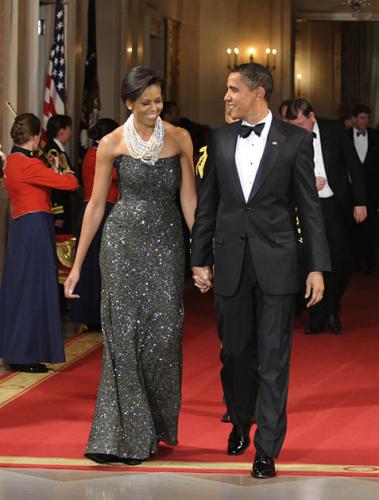 Elle Fanning- little cutie leaving a huge impression in the fashion industry.
It's a new era in fashion - there are no rules. It's all about the individual and personal style, wearing high-end, low-end, classic labels, and up-and-coming designers all together
Yohji Yamamoto S/S '13
Stylish and very elegant back! Love this look.
(via qinatthedisco)